⏰ 3+ hours' of content 👩‍🏫 13 chapters 📕 46 exam Qs 🧠 5 expert-led discussions 🛠 3 exclusive templates 👨‍💻 100% self-paced 🔖 Official certification
Course overview

Is the idea of setting up a CABs a little overwhelming? How do you begin? Which customers would be a good fit? How will the meetings run? What's your overall aim?
Beginning any project can come with a lot of questions, especially if involves working closely with your customers. But this Masters course offers you the tool and resources you need, all in one place.  
Need tips on getting stakeholder buy-in? We've got you.
Stuck with negative feedback? Get advice on how to turn it into a positive outcome. Need some quick wins? Our templates streamline your work instantly. 
Get certified in Customer Advisory Boards.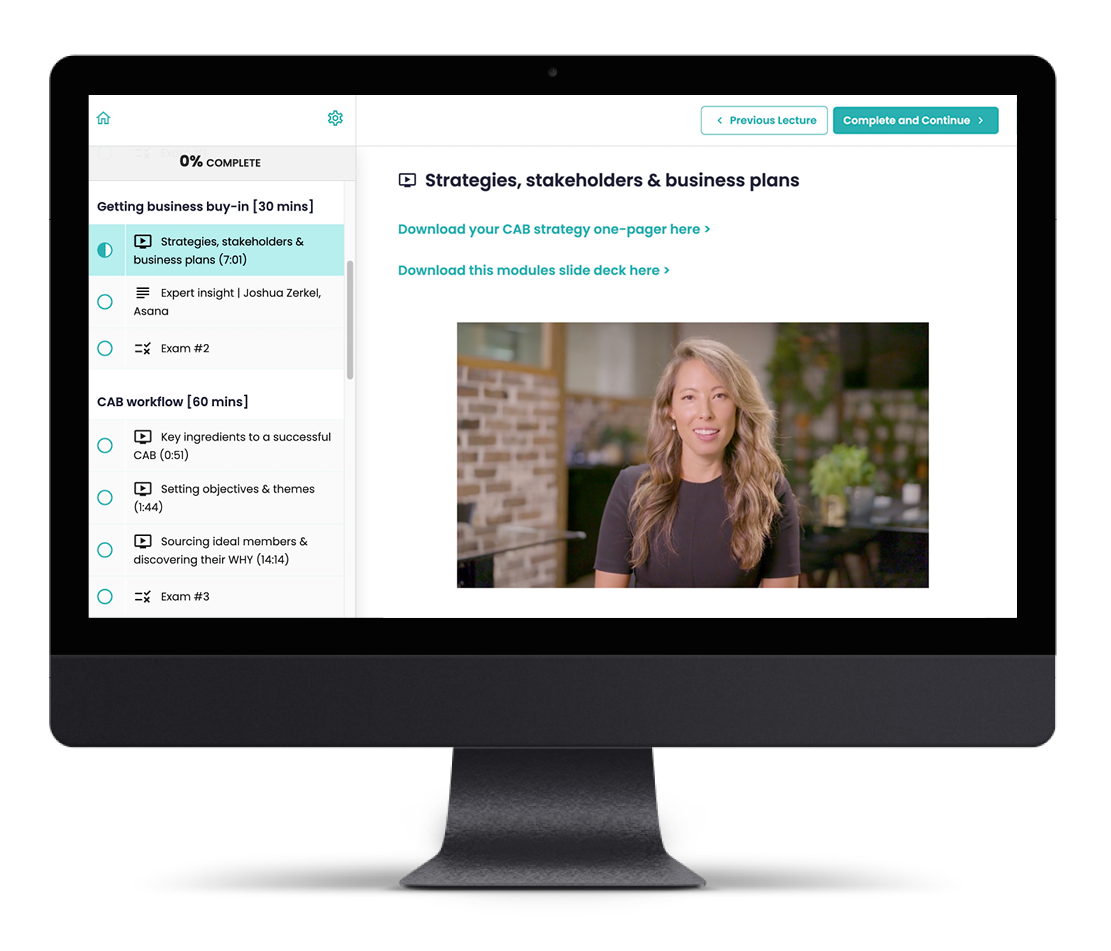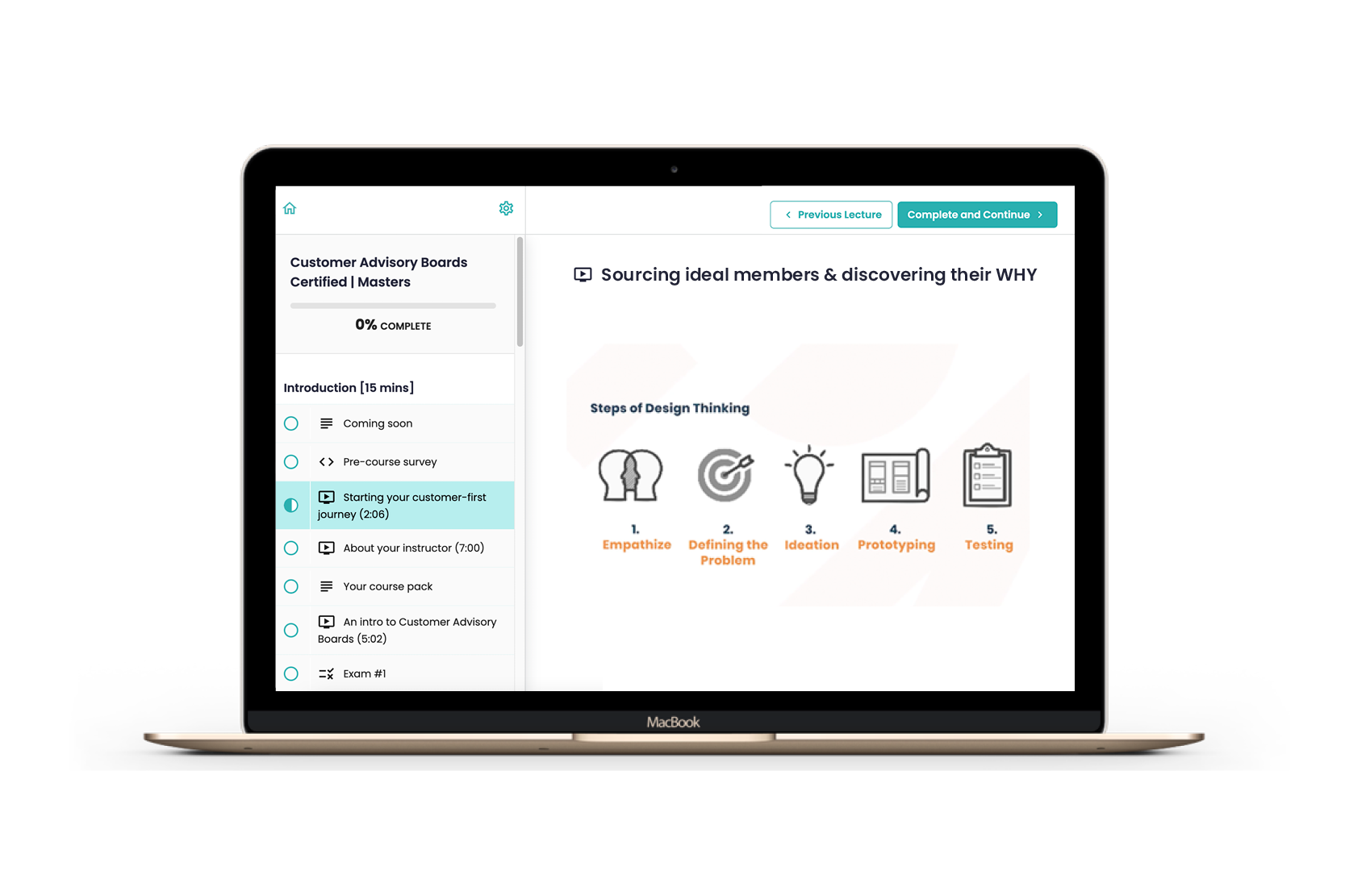 Start the cycle to success.


👇 Produce an awesome Customer Advisory Board.
👇 Get key customer insights.
👇 Enhance your product.
👇 Keep consumers happy.
🤑 Boost your revenue.
Brand-new to CABs? We'll show you the ropes. 
CAB veteran? We've got you sorted with a refresher (and we'll teach you new tricks!) 😏
This certification will equip you with the actionable tools, knowledge, and know-how needed to grasp the ins and outs of CABs.

"If you're planning on launching your first CAB, drop everything you're doing and take this course! Not only will it provide you with valuable resources and frameworks, but it'll also help you avoid a lot of 'first time CAB' mistakes and pitfalls."

Mark Assini, Product Marketing Manager at Voices

Meet your instructor.


Bree Bunzel, Head of Global Customer Marketing at Dropbox is a bonafide expert in Customer Advisory Boards.
An instructor with a 100% satisfaction rating for CAB customer experience, Bree has spearheaded a global CAB blueprint leveraged by a new events and marketing team.
After experiencing one of Bree's sessions first-hand, the former Chief Operating Officer at Dropbox enthused: "In all my years leading, this was a best-in-class Customer Advisory Board experience." 
Now, an expert with over a decade of experience, she's fine-tuned her acumen and is primed to impart her pearls of wisdom to you.
You're in for a treat. 🔥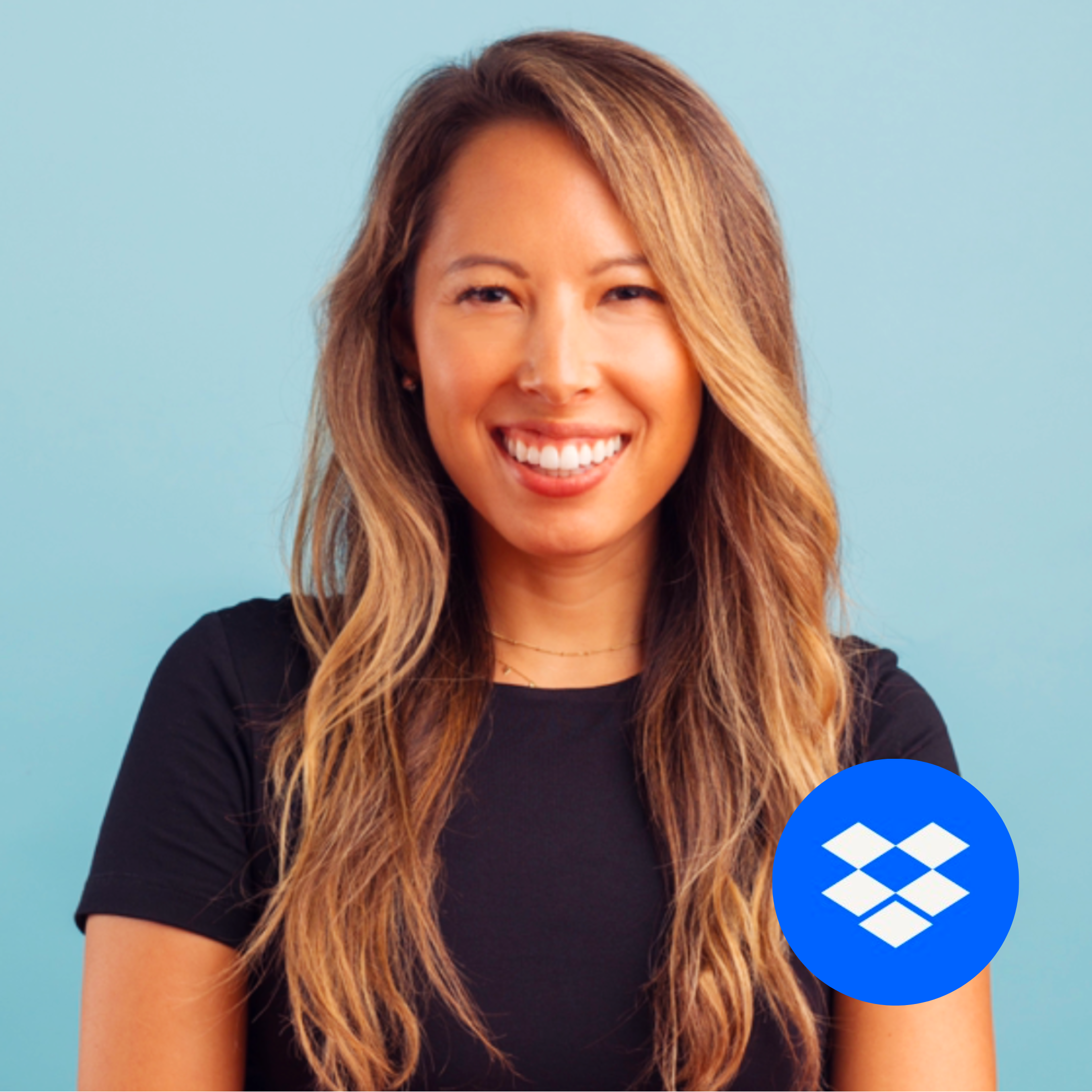 Learn from industry legends like: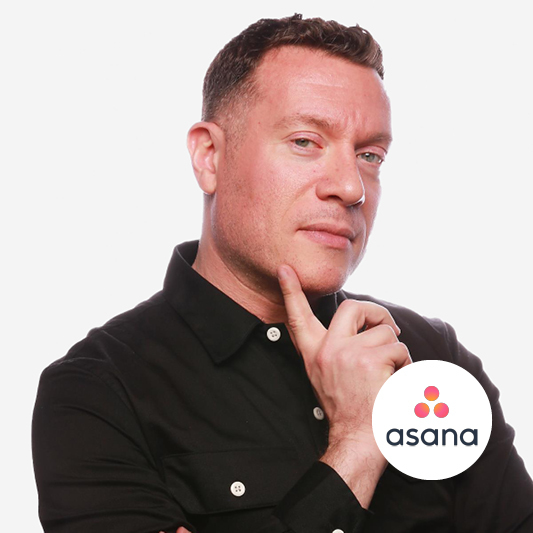 Joshua Zerkel
Head of Global Engagement Marketing (Community + Lifecycle) at Asana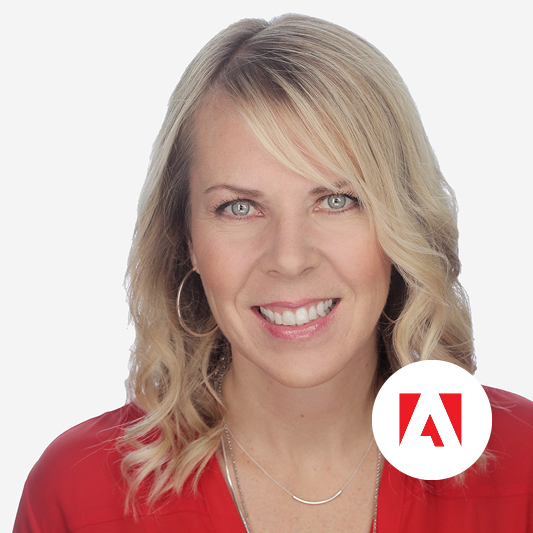 Alison Lutjemeier

Group Manager, Customer Feedback Programs at Adobe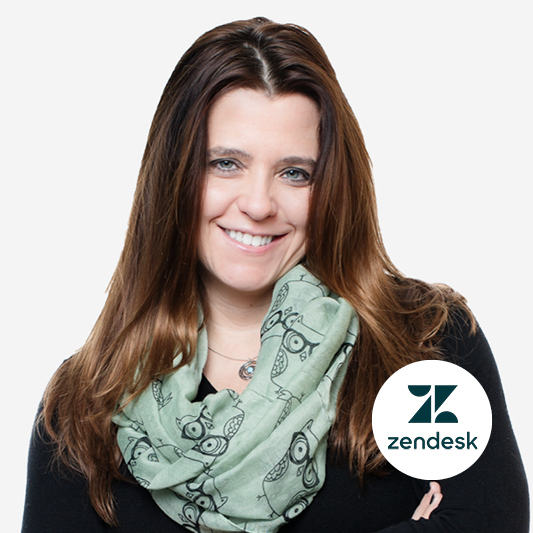 Lisa Painter

Senior Director, Executive Experiences at Zendesk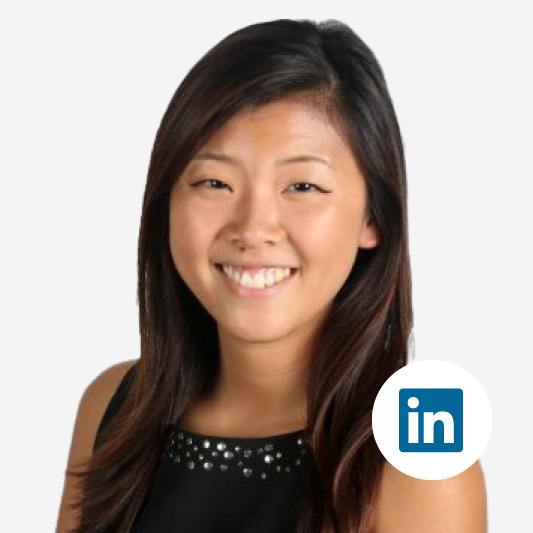 Judy Tian
Marketing Manager at LinkedIn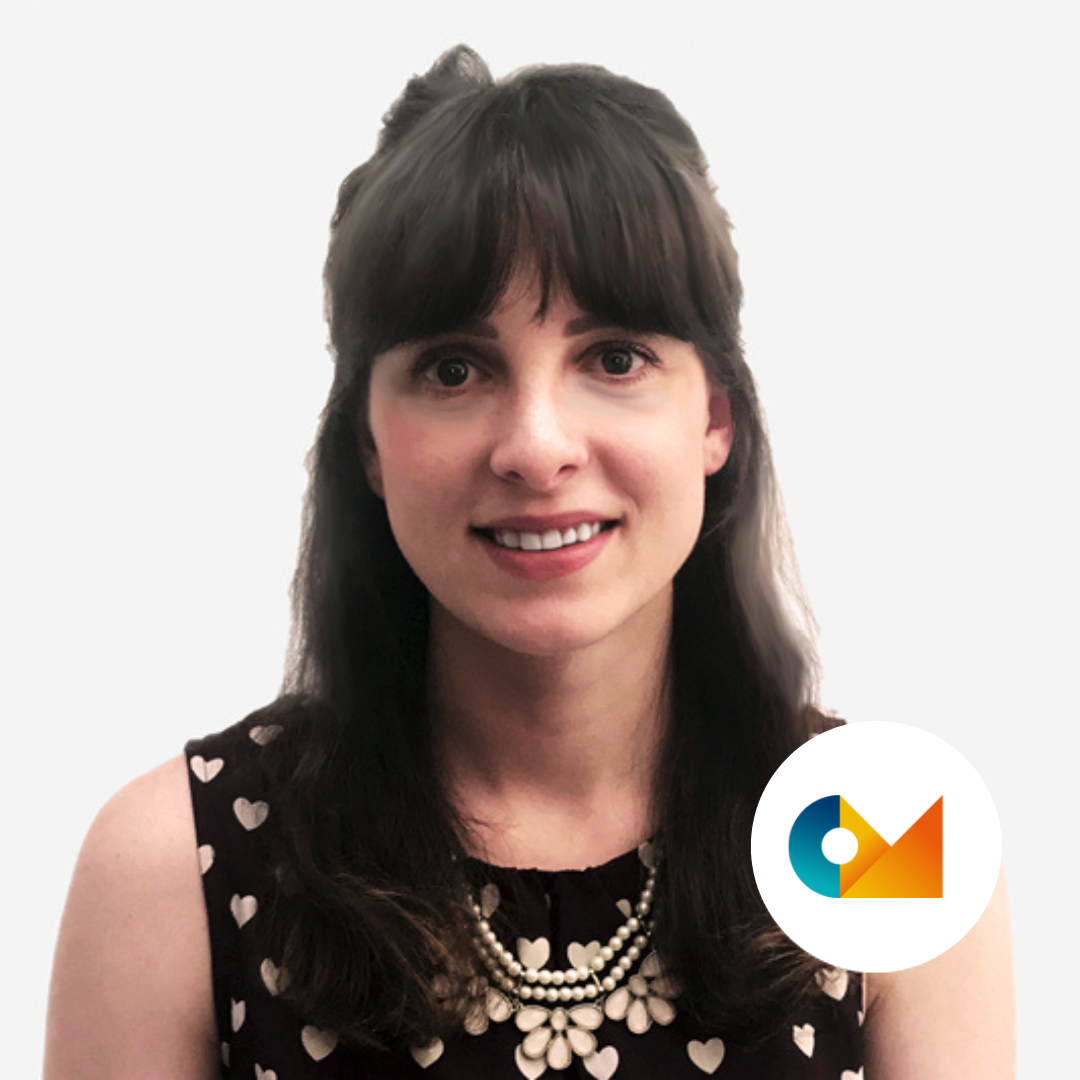 Bryony Pearce

CMO at Customer Marketing Alliance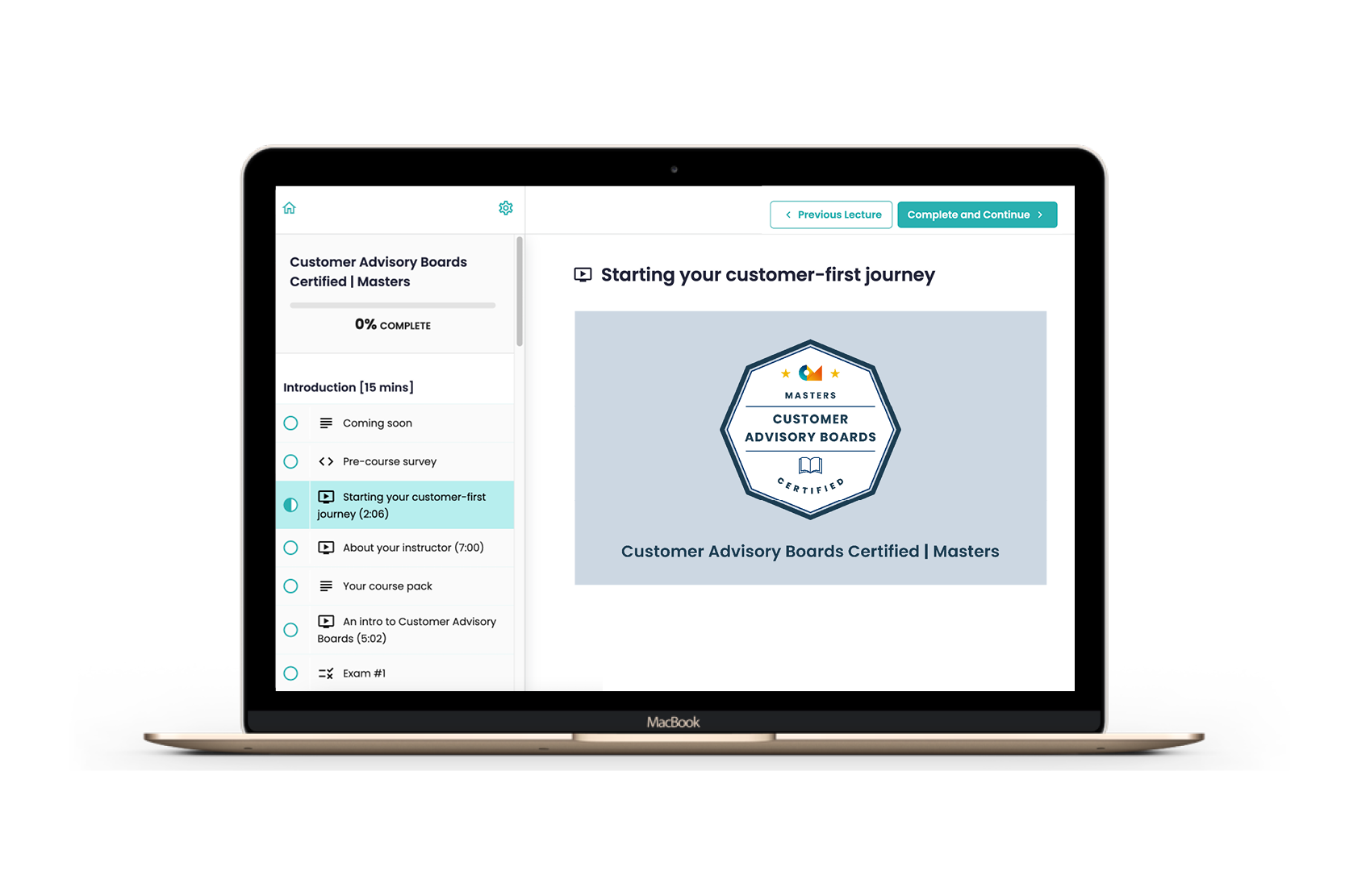 What you'll achieve.


✅ Understand the strategic benefits of Customer Advisory Boards.
🙌 Get business buy-in from key stakeholders.
👊 Outline objectives and key themes.
😃 Turn negative feedback into positive outcomes.
👀 Define roles and responsibilities.
🔥 Drive engagement among your members.
🗣 Consolidate feedback and introduce action points.
👌 Source ideal CAB members.
👨‍💻 Prepare an awesome agenda.
📊 Understand key CABs metrics.


Unlock an additional 7+ courses 🔓

Access our entire suite of courses, a free in-person event ticket, 100+ hours of strategy content, templates & frameworks, mentorship opportunities, and more when you become a Pro+ Member.



CABs aren't created in isolation. They pull in multiple skills from multiple departments, which is why this course is created with product marketers, product managers, customer success - and more, in mind.
Built in partnership with our sister-community, Product Marketing Alliance, it covers everything you and your cross-collaborative colleagues need to excel in every area of this essential business skill.


FAQs.
Q: Who's this course for?
A: Quite literally (almost) anyone. Whether you're a Customer Marketing Manager, Customer Success Manager, or something totally different, if you've got an appetite to be an expert in CABs, this course has been created for you.
Already ran a CAB or two in your time? Refine and improve on your current practices. Running your first CAB? Walk away with a step-by-step framework to hit the ground running and make an impact.
Q: How does the course work?
A: The course is 100% OnDemand and fully self-paced. Once you enroll, you'll work through the modules in chronological order and be invited to take part in activities. At the end of each module, you'll be presented with mandatory exam questions and if you pass all these, you'll become Customer Advisory Board Certified!
Q: How long will the course take to complete?
A: The course content, activities, and exams will take approximately 3 hours to complete.
Q: What happens if I don't pass the exams?
A: If you fail first time round you'll be given the option to retake the exam. If you fail the second attempt, unfortunately, it means you won't get the certificate. However, all's not lost, you'll have still learned LOTS and you'll be given access to the course materials for life - so you can brush up on the bits you slipped up on forevermore.
Q: How long will I have access to the course content for?
A: For life! One, one-off payment gives you unlimited to all the course's content forevermore.